MND RESEARCH — (Motor Neurone Disease)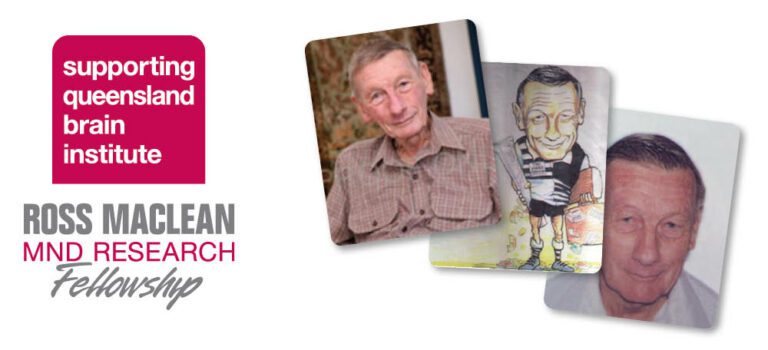 Family company establish UQ fellowship to fight MND
Successful business and family man Ross Maclean had a tough fight on his hands. At 80, he was battling a debilitating disease for which there is currently no adequate treatments or cure – Motor Neurone Disease (MND).
True to his fighting spirit and to help the cause of research into the condition, Ross Maclean and his family have joined forces with the Queensland Brain Institute (QBI) at The University of Queensland to raise funds for the appointment of a research scientist dedicated to studying MND.
Mr Maclean's company, the Index Group, underwrote fundraising for The Ross Maclean Fellowship, launched in early 2004. The Fellowship was created after Mr Maclean's meetings with Professor Perry Bartlett, Foundation Chair in Molecular Neuroscience and QBI inaugural Director. MND, also known as Amyotrophic Lateral Sclerosis (ALS) or Maladie de Charcot, was first described by Charcot, a French neurologist, in the 1860s. It affects more than 350,000 people worldwide, with a mortality rate of 100,000 people each year. In Australia, one person dies of MND every day. MND involves a deterioration of the nerve cells, or neurones, controlling key muscles including those in the trunk and limbs and those controlling speech, swallowing and breathing, while leaving the brain unaffected. Symptoms of advanced MND include difficulty moving around and sleeping; breathlessness and fatigue; and stiff, swollen and cold limbs. Probably the most high profile person to have developed MND is the famous physicist Stephen Hawking.
Mr Maclean was diagnosed with MND around the year 2000 after experiencing numbness in some of his limbs followed by a gradual deterioration in fine motor skills such as using keys, writing and turning on switches. His son, Jeff, said his father had delayed telling his family so as not to unduly worry them. Mr Maclean Senior and his wife, Daphne, have six grandchildren through Jeff and his older brother Craig, Deputy Principal of Bundaberg State High School. Mr Maclean Senior was also something of a veteran at fighting illness. As a child, he had battled osteo, which left him with a slight limp for life.
When diagnosed with MND, Mr Maclean was Owner and Managing Director of the Index Group of Companies, one of Queensland's top 400 privately owned companies and long-time major sponsor of the Souths Rugby Union Club in Brisbane. In fact, Index was the first company to sponsor rugby union anywhere in Australia in 1976 and Mr Maclean Snr was the club's patron while Jeff played for the club in nearly 200 games as a back in the 1970s and 1980s.
The Index Group of Company's interests have been vast and diverse and have included designing and manufacturing commercial water filtration equipment, selling secondhand mining and quarrying equipment, exporting Tasmanian silica flour (sand) for LCD glass manufacture and previously built steel barges and tugs. Jeff said the company would fundraise by approaching people for donations directly rather than organising major events.
He said even when his father was completely immobile and connected to a ventilator 24-hours-a-day, he remained very mentally alert and hopeful for a future cure or treatment for MND. "He could still talk with his ventilator in use and still made business telephone calls and answered email with assistance," Jeff said.The QBI was launched recently and will eventually employ around 240 scientists investigating how the brain works at the cellular and molecular levels to address diseases such as MND, Alzheimer's and dementia as well as mental illnesses such as schizophrenia.
22nd July 2004
To my friends, customers and associates, About five years ago, I contracted a very unpleasant disease known as Motor Neurone Disease (MND). Many doctors believe it is one of the worst ailments that can be contracted. Over a period of time, from three months and upwards, the muscles slowly contract and then die, although the mind is unaffected. This results in an active mind existing in an immobile body. The disease is terminal.
The University of Queensland has established the Queensland Brain Institute where highly qualified researchers are working to find cures for MND and allied illnesses. Professor Perry Bartlett and Dr Elizabeth Colsen are conducting research in the MND area and while progress is being made, there is yet no answer to the question of how and why this disease strikes. The disease can attack anybody without any logical reason.
My son Jeff and I have decided to commit the Index Group to raising funds to fight MND and support the research work of the Queensland Brain Institute. We are donating substantial funds ourselves, but to make the kind of progress that will deliver real results, the researchers need more.
We invite you, our friends, customers and associates to join us in donating to this very worthwhile cause.
I thank all of you with whom I have been associated over the years for your friendship. I have enjoyed a wonderful and interesting life and you have all contributed to it.
Please contribute to this appeal to fund MND research so in time, no one else has to suffer from this terrible disease.
With grateful thanks
Ross Maclean

Dear Friends,
I am very sad to advise that Ross Maclean passed away on Wednesday 23rd February 2005 aged 80 years young.
In the last months a great number of people visited and contacted Ross for personal and/or business reasons. It seems that the one often overlapped the other – as many business people were also friends and others who learned from Ross's experience and knowledge benefited in their financial affairs.
One thing foremost on Ross's mind was the progress of the Research Fellowship into Motor Neurone Disease, which was initiated by Ross and his family in 2004.
In his words Ross wrote shortly before passing:
The funding of the Fellowship to date is going fairly well and we are very pleased with the donations from a number of my friends and business acquaintances. I understand that an appointment has been made of the required scientist to pursue the projects and that increased research will begin very shortly. MND is far more prevalent then most people realize and yet in speaking with people the number who have lost a loved one or friend to MND is surprising. Thank you all again who have contributed to this research and also the people whom I know intend to donate. Contributions are still required with some urgency, so to all of my friends and others out there, who have not yet contributed: please do so.
With my best wishes,
Ross Maclean.
As a person, who deserves and has a special place in the hearts of an enormous number of people, the appeal for donations to the QBI Research Fellowship will hopefully stimulate every one of you to continue to bring out the best of what Ross always saw in humanity by supporting this worthwhile cause.
A message from Dr Adam Walker
Being named the Ross Maclean Fellow for MND Research is a true honour. Through our research at the world-leading Queensland Brain Institute, our goal is to carry on the legacy of Ross in the search for a cure for MND. We are uncovering the early biochemical changes that cause neurodegeneration in MND, and testing potential new treatments in pre-clinical studies. Scientific research takes time and is difficult to predict, but with the Ross Maclean fellowship, through the generous support of Ross's family and many others over the years, we are employing the most cutting-edge technologies to make ground-breaking discoveries. Together with recent and accelerating advances in biology, genetics and clinical medicine, our research will allow us to develop better therapies for people living with MND in Australia and around the world.
Make a tax deductible donation to MND research
Thank you for helping us search for a cure for this terrible disease.